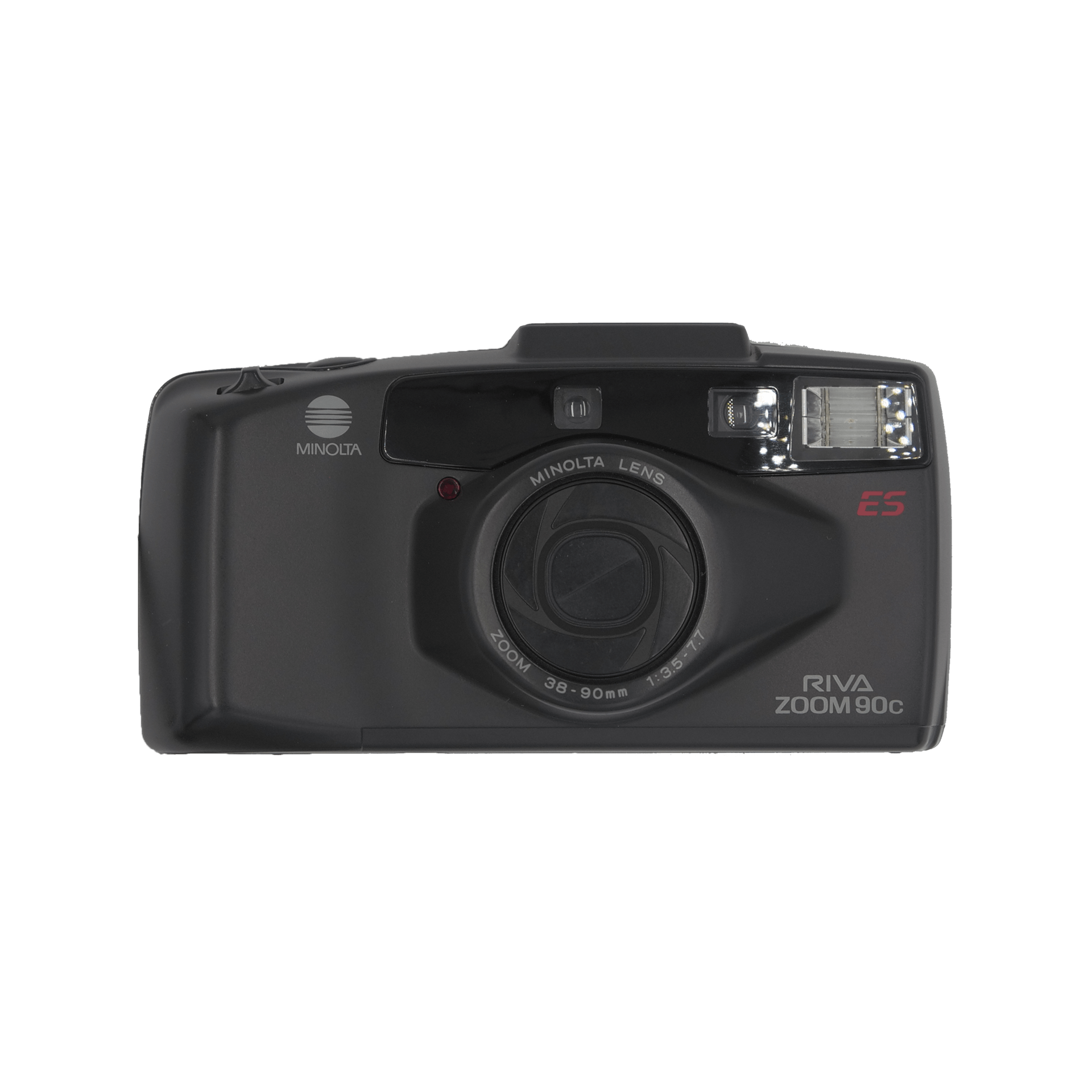 Minolta Riva Zoom 90c
Sale price

$87.00
Regular price
(/)
Local pickup in cologne in 0-2 days
Last shipping day before XMAS
🇩🇪 19.12. 🇪🇺 16.12. 🌍 8.12.
Delivery time with DHL Business
🇩🇪 1-3 d 🇪🇺 3-8 d 🌍 up to 30 d
TheMinolta Riva Zoom 90c  is an 35mm auto focus zoom camera made by Minolta. It is also known as the Minolta Freedom Zoom 90c and may have been used as the basis for the Leica C2-Zoom. The camera is notable for the Auto Standby Zoom (ASZ) system which Minolta claimed could automatically set zoom based on subject distance. This system includes the Eye Start (hence ES) moniker on camera where a sensor detects when the camera is held to the eye and switch it on. Typically for the era, it has DX coding and flash with a red-eye reduction mode. Some were sold with an optional IR remote release.

📷 fully tested
🌎 worldwide shipping
🔋  battery included
Condition Rating

Our collection consists of quality cameras. All of our cameras go through an excessive investigation of functioning. This includes testing of the shutter, flash, winder and all other functionalities. We check if there are any signs of fungus or haze on the lens. After investigating we rate our cameras. They fit into 3 categories depending on the state of the exterior.

MINT

Mint condition means that there are no signs of wear and the camera is "like new". Please take in mind that most of our cameras are older than 30 years and accessories like manuals or boxes can show signs of wear after that time period.

NEAR MINT

Near mint condition means that the camera can have some minor scratches or a worn off labeling. In general the camera will be in a good condition with minor cosmetical issues.

GOLD

Gold condition means that there are various signs of wear possible like scratches, dents or paint defects but the functionality of the camera is all tested and will operate a 100%.

EXTRAS

Some condition ratings include extras like "gold+manual". There are 3 different extras (sometimes combined) available. Boxed, Case and Manual. Boxed means the original packaging of the camera. (mostly with matching numbers) Case means a leather poach or another case that comes with the camera. The manual included is mostly in german language due to the location of our shop.
Shipping

We offer fast shipping with DHL GoGreen. You will recieve your package in Germany during 1-3 business days and in the EU during 3-5 business days. Worldwide shipping is also possible and takes 7-18 business days.
Warranty

30 days FREE refund, in case of any problems, no questions asked and a warranty of 1 year. During warranty time you get a partner for fast repairs which are payed 50% by us and 50% by you.
Choose options